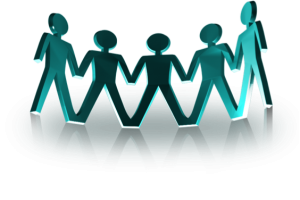 Love In the Name of Christ
                  Community LINC
A Community LINC is a connector:
– connect someone with hope
– connect someone with their own goals
– connect someone with a caring community
How does this practically happen?
meet once a week with the Love INC client for class or visit
build trust, be an active listener, be encouraging
pray together as the client is willing, pray for the client on your own regularly
ask questions to draw out the client's hopes and desires
find out what is holding the client back from reaching their goals
connect the client with the resources to help them reach those goals (classes/counseling)
walk with them through each new step
celebrate with them at every opportunity
Practical Parameters
the client and LINC could be paired for either home visitation (3 to 12 months for homebound clients) or for weekly life skills classes (for 4 weeks, or longer if mutual agreement)
LINCs meet together monthly for support, prayer, discernment
the Clearinghouse staff is always available to support you and help locate resources
LINCs communicate a simple report monthly to the Clearinghouse re homebound clients
remain humble, open, ready to be used by God
LINCs are not responsible to counsel or 'cure' or 'fix every problem'…you connect
appropriate boundaries are healthy

don't give money or gifts
 you don't need to divulge a lot of personal information
do share your personal journey with the Lord
listen without judgment
Summary: A LINC engages one-to-one with a motivated client to first connect them with their own life goals and then the resources to meet those goals. The LINC is not responsible for having all the answers or solving every issue.     Listen, pray, love, encourage!     Leave plenty of opportunity for God to bring the transformation.
Mid-Hudson Love In the Name of Christ
226 Church Street, Poughkeepsie
845-471-0102